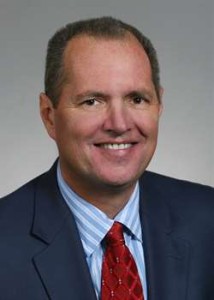 Friends,
It is with deep sorrow that we must announce a great loss to the Eta Lambda Chapter. Our brother, Mark Warlick, passed away after his long battle with cancer. Mark is a member of the graduating Class of 1978, and Zeta Pledge Class. Our thoughts and prayers are with his family and friends. Rest in peace brother.
—
Mark Bridger Warlick, formerly of Hunters Trail in Norfolk, and recently of 66th Street in Virginia Beach, died at Sentara Virginia Beach General Hospital, on Wednesday, July 31, 2013, after a nearly four-year battle with lung cancer. He was 58. A native of Richmond, Virginia, Mark graduated from Midlothian High School and earned a B.A degree in 1977 from Virginia Tech where he served as student body President, was a member of Sigma Chi Fraternity, and became one of the Hokies most ardent lifetime fans. He attended the Marshall-Wythe School of Law at William and Mary and earned a Doctorate of Juris Prudence in 1980. He practiced law in Norfolk with Crenshaw, Ware and Martin for three years before he found his passion in commercial real estate and joined Goodman Segar Hogan. After five years in the commercial real estate business, Mark and his friend Miles Leon formed First Commercial Real Estate Services. Miles and Mark, then young mavens of the Hampton Roads commercial real estate scene, had an immediate impact on the local market through their entrepreneurial spirit, gregarious manner, and sharp minds. Alan Nordlinger and the late Alan Nusbaum observed these talented young men from across town for four years before asking them to join forces with the venerable S. L. Nusbaum Realty Co., where Mark found his professional home for the past twenty-one years. S. L. Nusbaum was far more than a place of work – it was an extended family. Mark flourished in the Nusbaum environment, being awarded the Hunter A. Hogan, Jr. Hampton Roads Top Producer Award seven times, the CREC Gold Award twenty times, the CoStar Hampton Roads Power Broker Award four times, and numerous other distinguished honors. In 2012, he received the Hampton Roads Commercial Alliance Person of the Year Award in honor of his legendary volunteerism in the community.
With great humility, Mark sat atop the Hampton Roads commercial real estate world as the consummate professional who dealt with colleagues on a friendly, collegial basis. He served on the Norfolk Board of TowneBank and was active with many professional organizations, including the Society of Industrial and Office Realtors. Mark was active in the greater community civic and charitable organizations in many ways as well. He served as a member and Chairman of the Norfolk Planning Commission, was a member of the UNC Lineberger Comprehensive Cancer Center Board of Visitors, and was active with the United Way Foundation, which he chaired from 2005-2007. He also chaired the NATO Azalea Festival and Family Services of Tidewater. In sum, Mark understood fully the importance of "giving back" and he gave back generously.
However strong were the passion and pride Mark brought to his professional and civic work, clearly this took a back seat to his passion for and pride in his family and friends. After an extended bachelorhood, he finally found "the one", the love of his life, Reilly Petersen Warlick. He fell for Reilly in the very early stages of his career, and she recognized the "spark" in Mark. Reilly and Mark were a fantastic team, and as a team, they found great professional and personal success and happiness. Reilly has revered her vow of marriage "in sickness and in health" as she selflessly devoted herself to Mark's care and quality of life throughout his difficult and valiant effort to survive lung cancer. She loved her husband and has modeled awe-inspiring strength. The greatest fruit of their union manifests itself most notably in their two beautiful daughters, Christian Bridger Warlick and Windsor Jens Warlick. Mark was a proud and doting father, and his big brown eyes and indomitable spirit will live on in his special girls. Mark's mother, Helen Warlick, and his sister, Kelly Warlick Stitzer, have been his angels of unconditional love, showering Mark with support throughout his life, and particularly over these few years of uncertainty and struggle. He so loved them and their visits. He loved and missed his father, Junius Bridger Warlick and his sister, Cheryl Warlick Schropshire, who preceded him in death.
After Reilly, his "girls", and his family, Mark treasured his friends. And there are many! Virtually joined at his hip, both before and after his cancer diagnosis, have been a host of close friends. A greater demonstration of friendship over the last six months by these men and their spouses, and many, many other members of Mark's "A Team" would be very hard to find.
Mark Warlick will be remembered for many wonderful things, both professional and personal, but, perhaps most vivid, will be memories of a man who loved people, loved to have a good time, enjoyed his Captain Morgan and Diet Coke with a lime, was a can-do player, and was always there with a smile, a handshake, or a warm embrace. Whether planning a tail-gate party for watching his beloved, one-and-only Hokies play football, refurbishing an authentic "woodie" for use at the Beach, donning a bright pink blazer as Chairman of the Azalea Festival Parade, or cajoling his friends and colleagues to shave their heads to raise money for cancer research, Mark was an all-in marvel. He faced cancer and its effects with courage, hope, and a sense of humor that helped his friends and family take the journey with him.
Mark is survived by his wife Reilly and daughters Bridger and Windsor, his mother Helen and sister Kelly, and by many extended family members and care-givers who loved him endlessly: his mother-in-law Barbara Petersen, sisters and brothers-in-law Kristen and Ran Randolph of Virginia Beach, Rhonda and Lynn Durham, Jr. of Midland, Texas, Chuck and Margie Griffith of Alexandria, Virginia, and Leigh Stitzer of Chesterfield, Virginia; nieces and nephews Jessica Schropshire, Ryan Schropshire, Christine and John Allen, and Adam Stitzer, all of Richmond, Virginia, Ranny Randolph, Christian Randolph, and Peyton Randolph, all of Virginia Beach, Chuck and Lauren Griffith of Jacksonville, Florida, Chris Ripley, Matthew and Kathryn Ripley, all of Norfolk, Trevor Durham of Salt Lake City, Utah, Caitlin and Matthew Cohen of Los Angeles, California, Alexis and Jonathan Durham of New York City; and grandnieces and nephews Cole Durham of New York City, Mordecai Cohen of Los Angeles, California, and Charlotte Allen of Richmond, Virginia.
The family would like to give its most heartfelt appreciation to Mark's world-class medical team – Dr. George Saman, Dr. Mark Socinski, Dr. Pasi Janne, and Dr.Barbara Parks who were more than physicians, they were friends, and to caretakers Thomas Spencer and Audrey Alexander.
Should friends desire, memorial contributions in Mark's honor may be made to Virginia Tech, the United Way Foundation of Hampton Roads, Norfolk Academy, The American Cancer Society, CaringBridge, or a charity of your choice.
-Written by Rhonda Durham